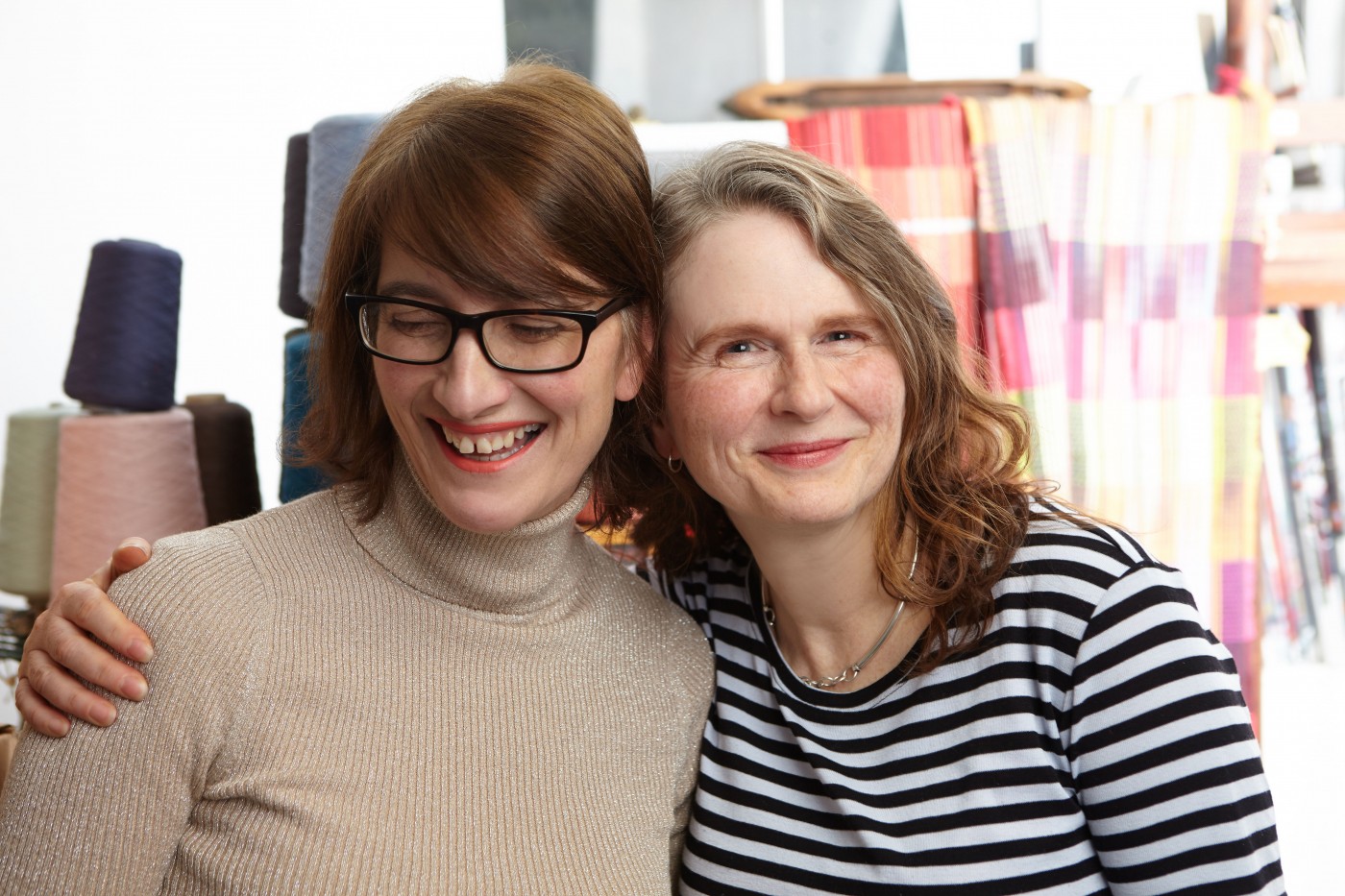 WALLACE SEWELL
WHERE WOMEN MEAN BUSINESS IN THE WORLD OF DESIGN
In 2017 Wallace Sewell celebrates twenty-five years of creating their original and exciting woven British designs. The female design duo launched their first collection of scarves and cushions in 1992. The story of Wallace Sewell is one of friendship, creativity, credibility, but above all, it's about successful women in business.
College Friends
The story begins with friendship. Emma and Harriet met at the Central School of Art in the 1980s and went on to complete their Masters Degrees at the Royal College of Art (RCA). "At the RCA, we were a small close-knit group and became close friends," explains Harriet. "With the two of us, even though we grew up in different parts of the country (Dorset and Norfolk), Emma and I shared many childhood memories and had similar interests – from Fred Astaire movies on a Sunday afternoon, novels by Jane Austen and Thomas Hardy, to loads of 1980s music." As students, they were introduced to the Bauhaus. Within the movement, textiles became art and experimentation was key to creativity. "The colour theories of Johannes Itten were and still are a major influence," says Harriet. "And the talent of the women weavers was inspirational."
Inspiration to Aspiration
After graduating from RCA in 1990, inspiration became aspiration as the women strove to set up their own design studio. Their first collection of scarves and cushions was shown at the Chelsea Craft Fair in 1992. "We worked so hard to get everything ready for the show and stayed up working through many nights," remembers Emma. "When the doors opened on the Tuesday morning we were exhausted. Then, within the first half an hour, whilst Harry had slipped away for a coffee, a gentleman bought two scarves for £80 each – he did it without blinking an eye, which made it all worth it!"
Interest from NY
Emma and Harriet were thrilled by the reception they received at the show, but when Barneys of New York placed an order for their scarves and then wanted further orders, Wallace Sewell as a brand was organically born. "We knew that we might take trade orders at the show, but imagined they would be from UK stores," explains Harriet. "Learning about exporting wasn't easy but we quickly became experts in shipping and the complicated methods of international payments. It was a steep learning curve but Barneys has supported us all the way and 25 years later, continues to order each year."
Weaving their own Magic
In the early days, Emma and Harriet were still honing their skills in small-scale manufacturing when they were faced with some fairly large orders. "We had some interesting discussions with the mills," says Emma. "We were young girls trained in the South dealing with older men from the North. They believed we would only know about the creative side of textiles and nothing about the industrial aspect but whilst at the RCA we had a thorough grounding in industrial weaving, from our fantastic weave technician Phil." Since then the women have risen to many challenges and grown the range of work their studio undertakes. "In the beginning we mostly reacted to what came along," admits Harriet. "However, if we fixed on a target we would go for it! We've always been good at reflecting and assessing where the business needs to develop next."
Building the Brand
Wallace Sewell has gone on to become a 'bijou' global brand with around 300 stockists in over twenty countries. They now offer scarves, throws, cushions and in 2017 launched their first rug collection. In addition, they design for international brands, are regularly commissioned by the Tate Gallery shops and create moquette seating patterns for Transport for London (following in the footsteps of earlier female designers such as Enid Marx and Marianne Straub). The fact that Wallace Sewell pieces are in the private collections of many of their design industry contemporaries is testament to their beautiful designs: "We love that other people in the industry admire our work," admits Harriet. "That is one of the highest accolades you can get."
Secrets of Success
Emma and Harriet have managed the transition from friendship to business partnership but what are the keys to their success? "We have always stretched ourselves creatively, yet are naturally cautious with the business side," says Emma. "This has seen us through hard economic times, including starting the business during the recession of the 1990s!"
Meanwhile, Harriet feels their success is down to their close friendship: "Emma and I are like an old married couple because we know each other so well." And, like a married couple, they have developed their own distinctive roles in the partnership. "We feel much of our success is down to the fact that we trained together. We are both creative and work collaboratively on the designing but Emma is more logical and interested in the technical aspect of weaving. She is naturally more computer savvy and has done the bookkeeping in the past," explains Harriet. "I'm very hands-on and focus on designing on the loom, creating designs as I weave."
The women have always been there to support each other too, including holding the fort while the other started a family. "Luckily we had our babies at different times," says Harriet, "though we never planned it that way." Running a successful business is a finely tuned balancing act but obviously these women have instinctively worked it out, which is why Wallace Sewell is celebrating twenty five years in business.
Women and Textile Design
The world of textile design is mostly women: "In the design world there have always been female-led companies, so we are following in this tradition," says Emma. "Currently, the textile industry is seeing the potential of these female-led businesses and are now keen to work with them." This is a great coup for women in business but it doesn't guarantee an easy passage: "It is possibly harder for women to run a business and combine this with being a mother," admits Emma. "Luckily, our careers have allowed us to control our working lives. Also, the business grew very slowly for the first 15 years, which allowed us to really hone our business and manufacturing model, so that when we wanted to focus more closely on the business, the foundations were already there."
Support and Smiles
Even though it hasn't always been easy, the creation of Wallace Sewell has always been fun. "We are very proud to be an all-women company," says Harriet. "We have built up a fantastic team of women who work with us and have allowed us to develop as a creative business with a much broader output than in the early days."
"As a team of women, it is a supportive working environment. There is a lot of laughter and we all enjoy each other's company – especially at 'Friday Cocktail Hour," smiles Emma. "Each Friday, the entire team downs tools at 5.30 to share a few cocktails together in the office. Everyone can wind down after the week and go home happy."
Warp, Weft and Women's Day
Emma and Harriet's friendship is at the very heart of the Wallace Sewell brand – it's like the warp of their very many beautiful creations, in that it holds everything together. But, what brings everything alive is their boundless creativity, bold colour combinations and adventurous designs – rather like the weft of their wonderful woven pieces. "We are really lucky," admit both women. "We have made a success of doing what we love and we are surrounded by a team of brilliant women that make it happen – everyday is Women's Day in our office, which really is something to celebrate…"