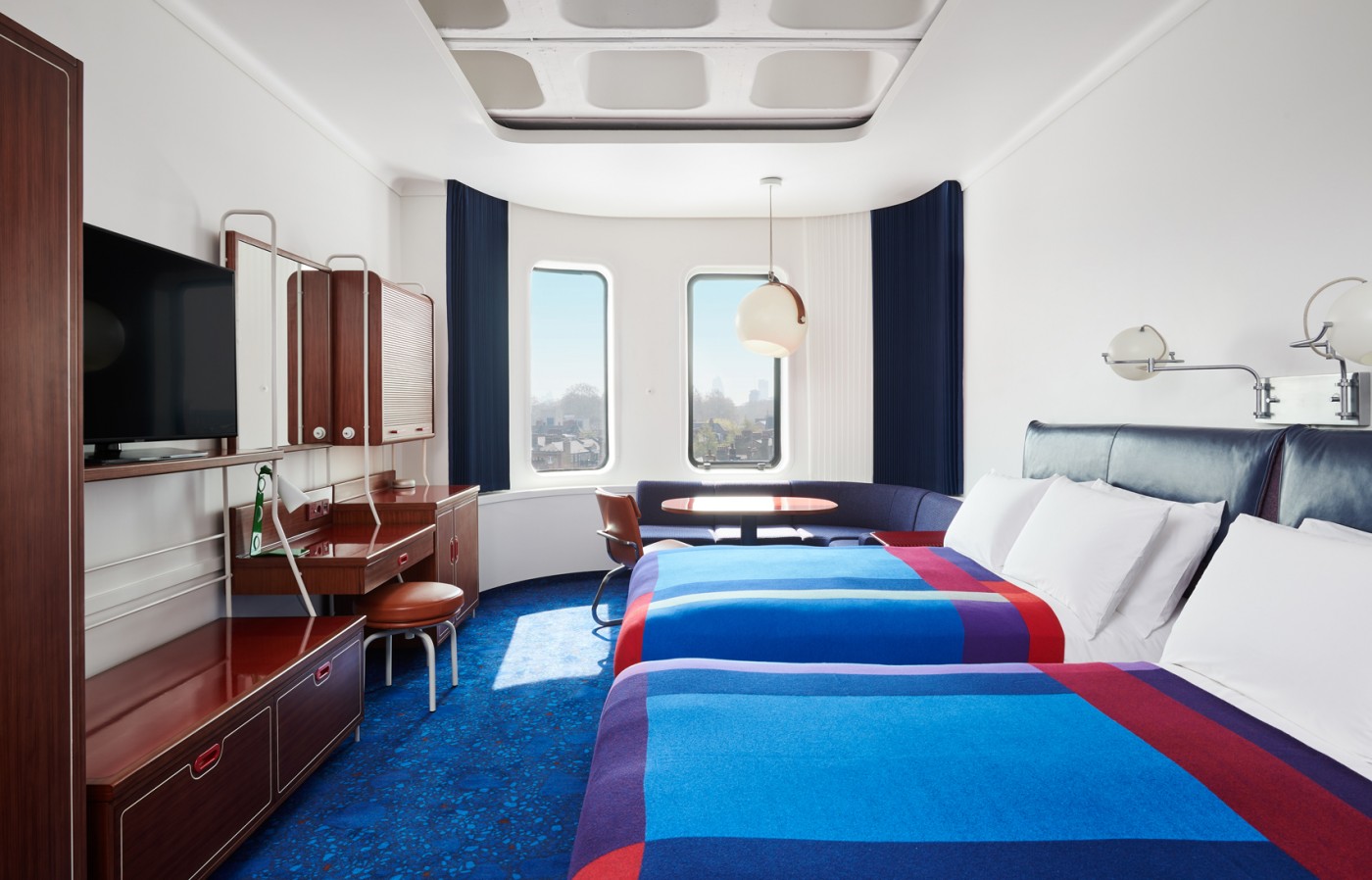 The Standard opened their first UK hotel at Kings Cross, London in July 2019.
It was the sixth hotel in the Standard chain, joining branches in New York's Meatpacking District and East Village, Miami Beach, downtown Los Angeles and Hollywood, and now the newest addition in the Maldives, with interiors developed by Shaun Hausman Design. The team opted for a much bolder colour scheme for Standard London than they had previously used, so we were only too happy to be brought into this colourful world to design the bedspreads that would feature in each bedroom!

This bespoke commission was an exciting project to be part of as The Standard are renowned for their modern, stylish interior design. The Kings Cross hotel decor is rich with geometric details and a 1970s influence; the overall impression is fun, bold and playful, with a sophisticated and unique aesthetic.

"We were inspired by a range of movies, from Fahrenheit 451 to Silent Running and Logan's Run," says Hausman, "as well as the iconic aesthetics of
the London Underground. Mid-century Italian design played a big part too."
This project began for us in 2018: we were approached at New York Now trade show and the design team for the Standard had a clear and defined brief, which was a perfect fit for us and our way of working!

Initially, we created a large-scale design with bold areas of colour, resembling a modernist abstract painting. The design started as paper sketches before small mock-ups were woven by hand to finalise the proportions. The palette is focused around pure reds and blues with accents of violet and mint green: these hues overlay each other, blending into further shades that anchor the composition together.

The Standard blanket was made to the same specifications as our Lambswool Block throws: woven with sumptuous merino lambswool and lightly felted to create a super soft, inviting quality with a fluid wool drape.

(Below: initial concept sketches, colour compositions, small-scale mock-ups and the final design on the loom at the Mill.)
The Standard, London
has 266 rooms ranging from Cosy Core rooms to terraced suites with outdoor bathtubs overlooking St Pancras station. All rooms feature comfy beds, Italian Sheets, custom bedspreads, fluffy down pillows, huge TVs, Bang & Olufsen Bluetooth speakers, custom Craig Green robes, custom bath amenities, access to the 24-hour gym, overstocked minibars, pet-friendly, free Wi-Fi and in-room dining. Plus two restaurants, a bar situated in the old Library and an outdoor terrace which is open now.
Hotels are still closed in the UK following Covid restrictions but when guests are able to return to the Standard (hopefully from the 17 May) they will once again be sleeping under a Wallace Sewell bedspread - but you can now buy this style for your home. For the first time, our exclusive Standard London Blankets are available to purchase via the hotel's website:
https://shopthestandard.com/collections/launch/products/london-blanket
(Below: the rooms at the Standard. Photo credit: Tim Charles)
100% Lambswool
Small: 160 x 169cm
Medium: 202 x 165cm
Large: 250 x 172cm
Made in the UK by Wallace Sewell
Sold by
T
he Standard Shop
prices from $415