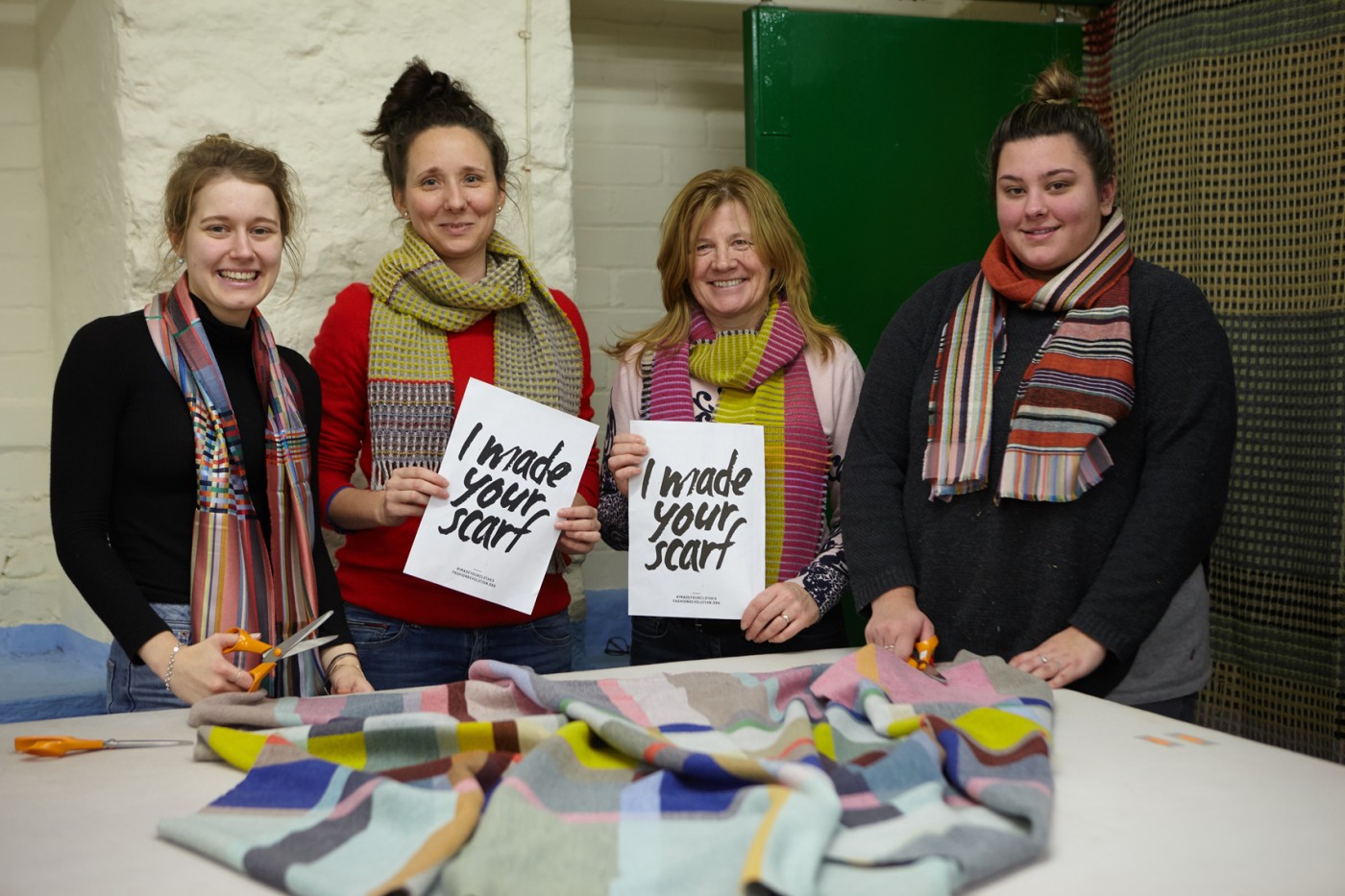 This week is Fashion Revolution week and we are joining the campaign by sharing the stories of the hard-working people who are all part of the journey your Wallace Sewell scarf takes on its way to you.
Following the tragic Rana Plaza factory collapse in 2014, which killed over 1000 garment workers in Bangladesh, Fashion Revolution started their campaign to improve transparency in the fashion industry. By encouraging companies to share details about their supply chain, from the point of source materials to production, it is hoped that they will become more accountable for the environmental and human impact their business has. In turn, this transparency gives consumers the knowledge to be able to choose where their purchase power is used. "Every time you spend money, you're casting a vote for the kind of world you want." (Anna Lappé)

Wallace Sewell works closely with Mitchell Interflex at County Brook Mill, which is located on the historic border between Lancashire and Yorkshire. Let us introduce you to some of the key people who make our scarves...
Adrian and Lance are the mill owners; the 4th generation of a family of weavers. Great grandfather William took over the mill in 1907 and it has been run by the Mitchell family ever since. Their father Raymond was even born in a cottage attached to the mill!

Mitchell Interflex have been weaving Wallace Sewell fabrics for 19 years and we are proud to have developed a close relationship with Lance and Adrian in that time. They have risen to the many challenges that Wallace Sewell have thrown at them from the outset. We met them through dire circumstances when they came to the rescue...

Previously, our fabrics were woven at another mill in Todmorden, but in the summer of 2000, disaster struck! The mill was flooded as the River Calder broke its banks and sadly there was no way they could resume weaving. Wallace Sewell had to find a new mill for production.

Cue Mitchell Interflex. All the yarn and warps were soaked from the flood, with no time or funds to replace them. Lance found a way to salvage the situation by drying the threads, so that they could be transferred into their looms. We counted our lucky stars, and production continued.


This is Tony. He is a Knotter and draws-in the threads for the loom and has worked on our fabric for his whole career at Mitchell Interflex and before...

Tony had been working at the mill in Todmorden, and in the process of moving production to Mitchell Interflex, Tony heard there was work and started a new job with Mitchell Interflex, at the same time as our fabric hit the looms!


This is Barbara, a Cloth Inspector and Weaver, she is responsible for ensuring the high quality you can expect when you buy one of our scarves.

Barbara was actually the first person to weave Wallace Sewell fabric at Mitchell Interflex. She started at the mill when she was 16, working on the looms and now as a Cloth Inspector, checks over the fabric for any faults before it is sent to the finishers to be washed and pressed.


Over the duration of Fashion Revolution Week we will be sharing more stories on our social media channels about the people that are involved in producing our products: follow us on Instagram & Facebook.

If you would like to read more about the Fashion Revolution, information on all aspects of responsible fashion, and how you can get involved we would recommend a visit to their website: www.fashionrevolution.org