Shop and Ship International
Subtotal
Delivery Calculated at checkout
Continue Shopping
We use solely natural fibres in our scarves, throws and cushions. These are a renewable resource and do not release micro plastics into the environment.
We work with established yarn suppliers, who are working towards good ethical standards in their supply chains.

Our merino lambswool supplier has a policy to only buying 100% non-mulesed wool. Our supplier is also a members of Woolmark, who have signed up to RSPCA Best Practice Australia and UK in support of International Wool Textile organisation Working Document on animal freedoms.
Yarn Provenance
| Yarn Type | Fibre Source | Spun in | Dyed in |
| --- | --- | --- | --- |
| Merino Lambswool | Australia & South Africa | Yorkshire | Yorkshire |
| Silk | China | China | Scotland & West Yorkshire |
| Fine Wool | Australia | India | India |
| Wool Crepe | Australia | India | Scotland |
| Cashmere | China | Scotland | Scotland |
| Mohair | South Africa | South Africa | Scotland |
| Cotton | Turkey | Turkey | Turkey |
Weaving & washing
Wallace Sewell works closely with Mitchell Interflex at County Brook Mill, which is located on the historic border between Lancashire and Yorkshire.

Adrian and Lance are the mill owners; the 4th generation of a family of weavers. Great grandfather William took over the mill in 1907 and it has been run by the Mitchell family ever since. Their father Raymond was even born in a cottage attached to the mill!

Once the fabric is woven it is transported to Huddersfield where it is washed to create a super soft and luxurious finish.

Then it is sent back to Mitchell Interflex where our Production Manager, Andrea and her team, hand cut each product, quality check for imperfections, then label and package them ready to be dispatched to our customers.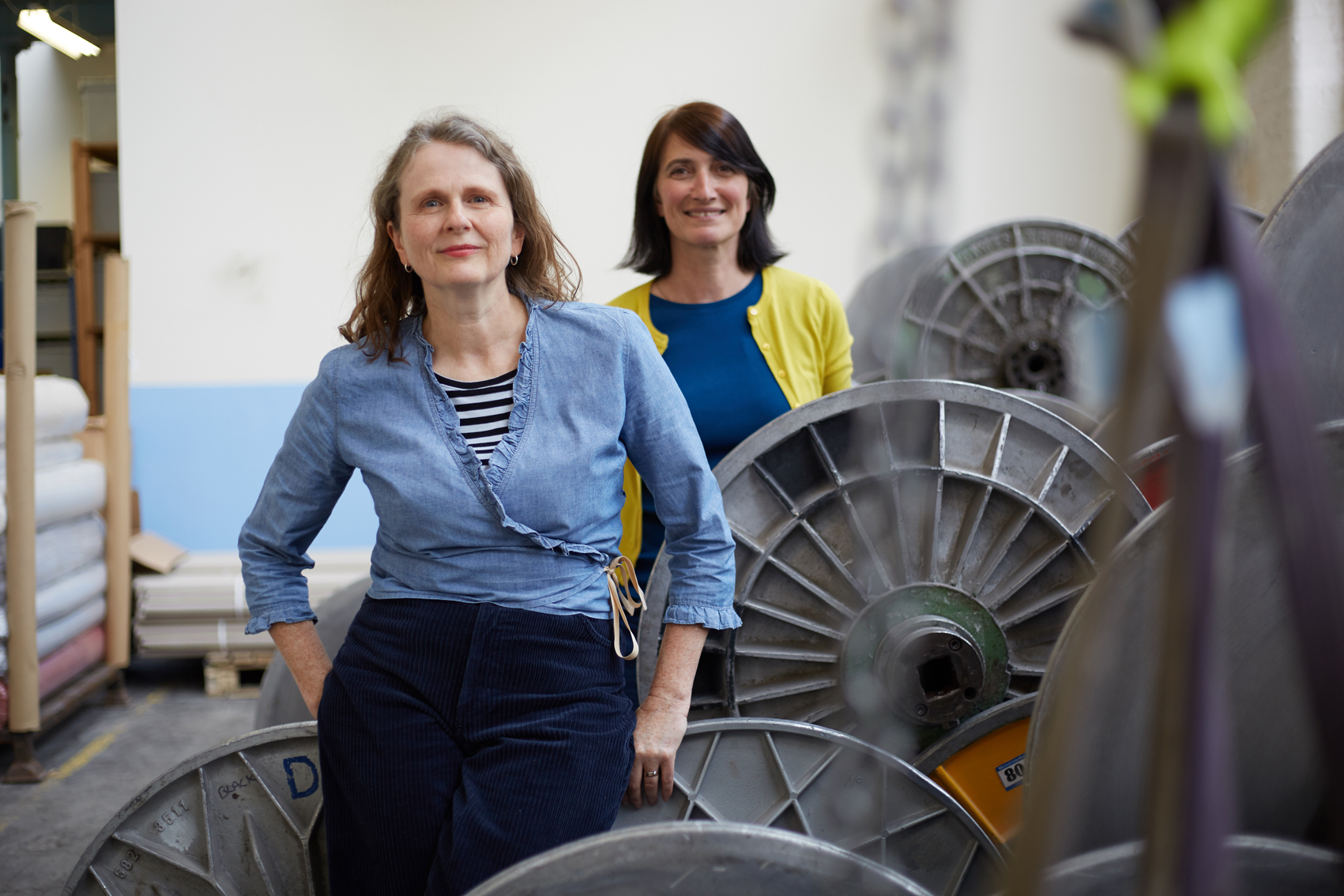 | Type of Product | Metres Woven 2020 | Equivalent |
| --- | --- | --- |
| Wool scarves | 2,460m | 7.59 x Eifell Towers |
| Silk Scarves | 529m | 5.5 x Big Ben |
| Wool Scarves | 4,419m | 42 x Football Pitches |
For our cushion covers and other smaller accessories, their journey continues to Edinburgh, where they are sewn with the help of Nina, Adam and their team at Kalopsia Collective. Their business is a social enterprise, so their profits get reinvested into the community.

By keeping the majority of the manufacturing process in the UK, we minimise the emissions produced from transportation. Here is how far our products travel from warp to completion:
LAMBSWOOL SCARF = 140 MILES

Warp made → Woven → Fringed → Washed → Cut and Quality checked
LAMBSWOOL THROW = 450 MILES

Warp made → Woven → Fringed → Washed → Cut and Quality checked
FINE WOOL WRAP = 142 MILES

Warp made → Woven → Fringed → Washed → Cut and Quality checked